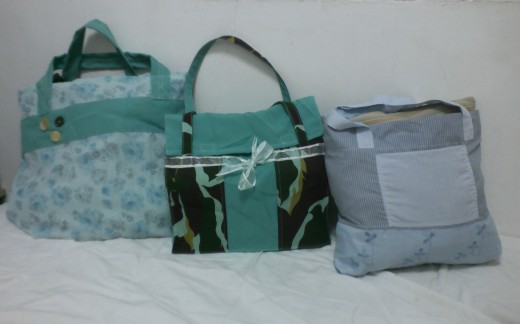 I am H, and I have been a call center agent for five years. However, I finally got tired of passing through a heavy traffic to go to the office. For that, I resigned from my job so I can look for a home-based job.
As I searched for an online job, I learned from people's testimonies that they make online money by doing what they really love. Some make blogs. Some provides assistance related to their profession. Some develops websites. Some of them are selling products. Most of them are bragging about earning thousands of dollars a week by doing 'scam.'
As for me, I can't find a job because I can't decide what I really love to do. What do I really love to do? I love arts. But will I ever earn money using my artist's touch? That's what I am about to find out.
JOB: Design things related to fabric
GOAL: Open a shop and hire 10 unemployed persons
TIME FRAME: 1 year
Day 1 (November 1, 2016) – DESIGN 1: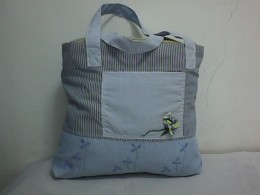 The first bag is 15 x 17 inches in size. The striped cloth is an excess fabric from ordered pillow cases. The embroidered blue cloth is an excess fabric from our curtain. For my customers not to notice that it was just an excess fabric, I put a flower at the bottom left of the bag's pocket. It made the design fashionable.
Day 2 (November 2, 2016) – DESIGN 2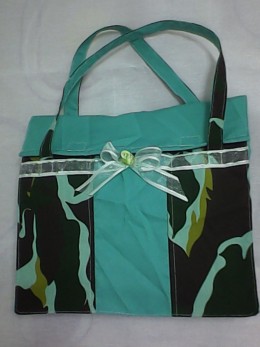 As I searched through a pile of excess fabric today, I noticed the seven-colored cloth that one of my friend brought home last year. Since not one piece is enough to make one bag panel, I combined it with a mint green excess fabric from a dress that my mother made for herself.
Both the seven-colored and the mint green cloth are stiff in nature so I put a cover to keep the bag from opening. I also put a mint green ribbon and a flower to make the bag fashionable.
Day 3 (November 3, 2016) – Design 3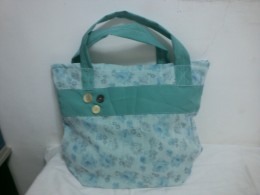 I found a floral nylon fabric today and I decided to make another bag. Since it is see-through, I put a mint green Gina cloth as its lining. I also put a horizontal green combination on top and three buttons to give emphasis to the bag.
Today, I already have 3 bag samples so I've contacted a close friend to show her the items. And guess what, I've had my first customer! She ordered 15 bags.
Day 4, (November 4, 2016) – Design 4 and 5
I have 15 bags to make and I am motivated to do more. So here I go.
There are several seven-colored cloth in the pile so I choose them to be my project today. For the first bag, I paired it with an olive green cotton cloth. I braid the strap and put a ribbon and a flower at the right side.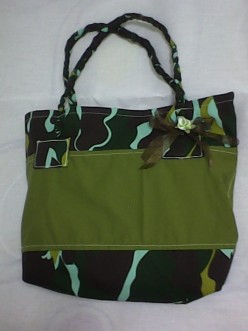 For the second, I paired it with an excess fabric from one of our customer's ordered curtain. The curtain fabric is elegant, however, it is too thin so I put a white fabric as a lining.